In this intolerable heat, nothing can give you more comfort than an air-conditioner. Now imagine, what can happen if suddenly the ac stops working. It is a sheer nightmare. But the truth is you have to learn to deal with it. You must resort to an air-conditioning repair service as early as possible. We, at Comfort Master Mechanical Associates, can be your one-stop solution for air-conditioners as we offer sales, installation along with repair and maintenance. We showcase a certain level of expertise that makes us stand out from the rest. No matter what concerns you have with your ac, our technicians are skilled and trained enough to deal with everything. So, if you are from areas in and around Goldsboro, Kinston NC, Rocky Mount, Washington NC, Williamston, or Wilson NC, then you can rely on us.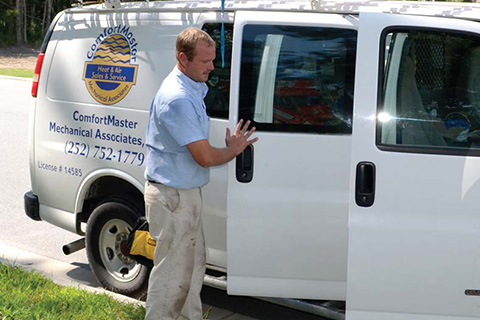 Here, we have put together a few tips that will help you choose the right repairing service for your air-conditioning systems. Take a look.
Look for Professional Expertise
First of all, you should understand that the air-conditioner has to be repaired by professionals. So, you must ensure that the ac repair service you have selected has well-trained, qualified, and skillful technicians who can fix all kinds of problems with an air-conditioner.
Check Experience & Reputation
You have to also keep in mind that you have to choose a repair service which has fixed several ac-related problems in the past. So, you must enquire about the experience the company has. Along with that, you must also make sure that the company enjoys a good standing in the market owing to their services.
Apart from this, keep an eye on the sort of amount charged by the company. And if you think we can be a good option for you, call us at 252-752-1779 for a free quote now.