Are you thinking of purchasing an air-conditioner? Well, better late than never! Everyone needs an air-conditioning system nowadays whether at home or in the commercial spaces. During summers, it gets extremely hot. Having an AC at home can give you the required comfort and relaxation you need. Even at office, your employees can be more productive if they are working in a cool environment. But what you should not forget is that an AC also needs other essential services along with the purchase such as maintenance, repair, and even installation. You have to hire a good, experienced, and reputed air-conditioning service. We, at Comfort Master Mechanical Associates, are the right choice for you. We bring you high-quality, reliable, and convenient air-conditioner service that you will always remember. We have served all kinds of clients in both single family homes as well as commercial facilities. So, if you are from areas like Edenton, Goldsboro, Kinston NC, Rocky Mount, Williamston, or Wilson NC, you can rely on us.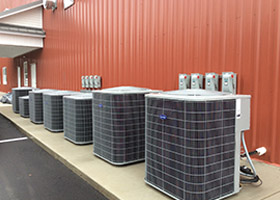 Here, we have put together a few essential qualities that must be present in an AC service. Take a look. 
First of all, an air-conditioner service should be professional in their approach. They should showcase efficiency in their work. Whether you are installing, repairing, or just regularly servicing your AC for daily maintenance, they should give their best and try to understand your priorities.  
Next, if the company has promised to send their staff at a particular time for the AC repair, maintenance, or installation, they should reach your home at the time that has been promised. They should learn to value the time of their clients. 
Sometimes, the clients might be a little anxious about the functionality of their AC, express their concerns about a repeated problem, or might ask a lot of questions. The AC service people should not be angry and instead, patiently try to calm them and answer their queries.  
So, if you think we can help with what you are seeking, then get in touch with us now.