Do you feel it is unbearable to work or even sleep in this scorching heat? Summers have become intolerable with the increasing temperatures. We are all bound to invest in quality air-conditioners for a sense of relief. Air-conditioners are comfortable and relaxing amidst this weather. But you must keep in mind that the AC you are enjoying has to be installed properly and if something goes wrong after prolonged usage or for a parts damage, you need to take care of it. You have to hire a professional for AC servicing and repair. We, at ComfortMaster Mechanical Associates, can be the right solution for you. We are an established and experienced company which has been in this field since 2003. We can offer you air-conditioner installation, repair and maintenance. We are a locally owned and operated company which is known for our state of the art technology and smart and efficient technicians. So, if you are from areas such as Kinston, NC, Rocky Mount, Williamston, Edenton, Goldsboro, or Washington, NC, then you can rely on us.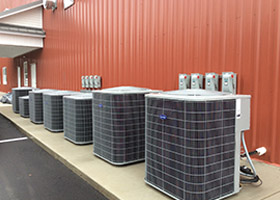 Here, we have put together a few crucial things to check about your AC services before hiring. Take a look. 
You have to make sure that the company you are hiring can install or repair the machine effectively. You have to make sure the company has latest tools and knowledgeable and well-trained technicians to tackle all AC-based issues. 
Every service comes with a price. You need to check if this price is suitable for your pockets or not. You must get free quotes from the company to match it with your budget or compare it with others and choose a cheaper solution. 
So, if you are thinking of choosing us for your AC-related issues, then contact us today.