​HVAC, AC Repair, Air Conditioning Repair, and Air Conditioner Service in Greenville, NC
We get it. When you need AC repair, you need it fast. And that's why ComfortMaster Mechanical Associates is your answer when you need swift, prompt air conditioning repair throughout the Greenville area. Here are some of the reason you should call ComfortMaster:
Emergency service – Does your AC break down 9-5 Monday through Friday? Of course not, it breaks down over Holiday weekends, record-high Saturdays, and other inconvenient times. But you should not have to wait to get an air conditioning repair. Call us and we will tell you how soon we can be there.
Full service – We have factory-trained technicians, licensed electricians, and more on staff. From our sales teams all the way to our installers, we are a team that works for you, our customers to get you the best air conditioning service for your Greenville home or business.ss
Highest certification available – Our technicians are NATE certified. This means they meet and exceed the most stringent requirements with a commitment to excellence in air conditioning service.
Repair and service on any air conditioner manufacturer – We have received the excellent recognition of being a CARRIER Factory Authorized Dealer. But our knowledge does not stop there. We are able to provide expert service on any brand of HVAC.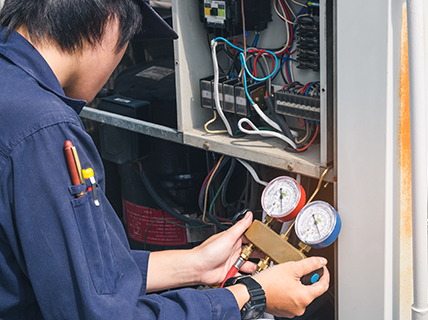 Air Conditioning Repair in Greenville, NC
When you need AC repair, not only do you want it fast, but you want it fixed right the first time. This is why you should always go with an air conditioning company that is not only certified but also experienced with great testimonies and ratings. We know it is hard to pick an HVAC company, that is why we have made it our goal to follow through on our promises of excellent customer service since we started in the air conditioning industry back in 1985. We have been helping customers realize energy-saving systems for the long-term. It is a great feeling to keep our Greenville community customers happy, comfortable, and saving money with their air conditioner.
HVAC and Air Conditioner Service for Greenville, North Carolina Businesses and Residents
Greenville, with a population of nearly 100,000 is the health, entertainment, and educational center of the Tidewater and Coastal Plain North Carolina regions. The town is also known as the BMX Pro Town because it is home to many top professional BMX riders. The fourth-largest university in the University of North Carolina system, East Carolina University is in Greenville. Once centered around the tobacco industry, Greenville's major industry sectors today are health care, education, and manufacturing.