Do you notice any kind of moisture accumulation near your air conditioner? Do lack enough cooling with your air conditioner even after turning it on for quite some time? Or do you get a strange sound from your AC when you turn it on? All these signs could be an indication that you need to repair your air conditioner. If you have been using your air conditioner for quite some time, it is quite natural that due to regular wear and tear, these will start to give away. You need to hire a good-quality air conditioning repair service. We, at comfort master mechanical associates, can help. We are one of the most reliable and experienced companies which have been in this field for more than 20 years now. We can provide you with a wide range of services right from HVAC installation to even repair and maintenance services. We are known for our highly efficient and smart services along with our customer-oriented approach. So, if you are based in areas like Rocky Mount, Goldsboro, Ahoskie, Wilson, NC, Washington, NC, or Edenton, then you can opt for us.
Here, we have put together a few essential factors to keep in mind while choosing the right air conditioning repair service. Take a look.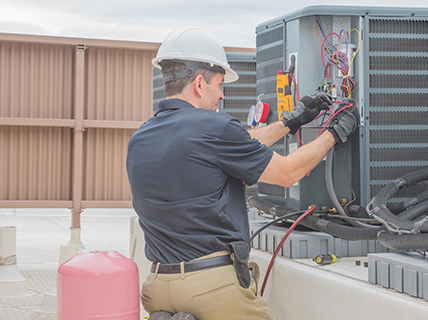 You need to ensure that the company is choosing to carry out the repair service for your air conditioner must have been in this business for quite some time. The more time they spend in this field, the more expertise they will gain on how to repair an air conditioner. This experience will help them solve your problems faster and more efficiently.
If you want to trust a company, you have to make sure that they have a good reputation in the market. That is why it is important to check the client reviews and ratings so that you can get an idea of the sort of standing they have. This will also help you understand what kind of repair service you are likely to get if you choose to hire them.
So, if you are thinking of choosing us, contact us today.