With the current trends of global warming, our lives seem impossible without air conditioning systems. No matter where you live, air conditioners are a must to ensure comfort. What's more, in a commercial setting, it can also automatically make your employees more productive. Comfort is an aspect that nobody wants to compromise on nowadays. Hence, if you are looking for air conditioning units for your residential or commercial properties, then we, at Comfort Master Mechanical Associates, can help. We are extremely driven by our customer satisfaction. Whether you need installation, maintenance or repairing, we are here to lend you a helping hand. Our technicians are all skilled and NATE certified. No matter what the brand might be, we know how to work our way around it! So, if you live in areas like Edenton, Goldsboro, Kinston NC, Rocky Mount, Washington NC, Wilson NC or the surrounding locations, then we can be perfect for you!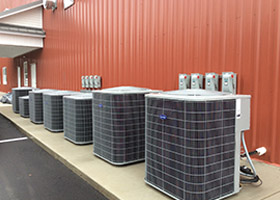 Here's how you can find the perfect dealer of HVAC systems. Take a look. 
Research 
When looking for a supplier of an air conditioning unit, make sure you do plenty of research. An AC is a big investment and you would want it to last for an extended period without any hiccups. Thus, when you look for a supplier, make sure you read reviews and customer testimonials before you put down your money. Their customer service should be excellent and they should have enough experience in the field.  
Variety 
The second thing that you need to consider is variety. HVAC systems have come a long way in terms of their craftsmanship, features and prices. So, when you look for an AC, make sure that your dealer can provide you with an ample amount of variety and models. When you have more options to choose from, you can make sure that you get the perfect model which matches all your preferences.  
If you're not sure where to start, we can help you. Contact us today!