​Air Conditioner Service, AC Repair, HVAC, and Air Conditioning Repair in Williamston, NC
A working air conditioner is essential to your Williamston home or business. Comfort is one thing, but you also need humidity control and air filtration. What would your home be like during the hot summer if humidity ran rampant throughout your home? What would your carpet, linens, upholstery be like? What type of mold of mildew could grow? This is one of the many different reasons to keep your air conditioner in top running order. How? Regular maintenance or cleaning by a licensed and insured company. Air conditioning units have many delicate and complicated parts. Never trust air conditioner service to anyone who is not fully trained and licensed. Also, be sure to work with a company that is local, established with many high ratings and references.
At ComfortMaster Mechanical Associates, we love our business, and we love our industry. We have achieved some high standards within the HVAC industry:
NATE certified – more about this below but this certifies that our technicians are skilled professionals.
Multiple licenses – members of our team have H1 (heating & hot water), H2 (commercial), and H3 (residential) licenses. These are all the possible licenses you can get for HVAC.
Insured and licensed – we even have a member that is a licensed electrician. This helps our customers save money and stress of having to subcontract electrical work.
Factory certified – we are proud to be a CARRIER Factory Authorized Dealer. We also can provide expert service on any brand of HVAC.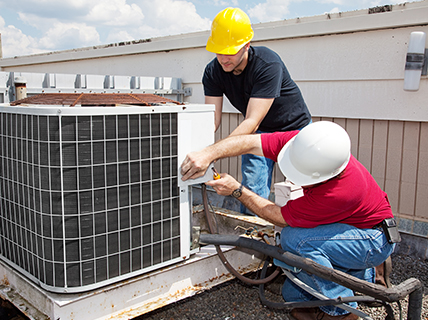 AC Repair in Williamston, NC
Our NATE certification is something we are proud of because of its prestige and the national recognition it brings. NATE (North American Technician Excellence) technicians have completed specialized certification tests including those in ac repair. The test is supported throughout the heating, ventilation, and air conditioning industry. Your Williamston home or business can expect better air conditioning repair and service from professionals that are dedicated year after year to provide the best performance.
We also strive to stay on top of all manufacturer changes and updates to ensure we are providing top air conditioning repair. After all, when you need ac repair, not only are you looking for emergency air conditioner service, you're looking to protect your investment.
Air Conditioner Service in Williamston, North Carolina
Some 28 miles southwest of Greenville is the town of Williamston in Martin County. With a population of 5,511, Williamston is a small part of the Inner Banks region. The town is centered around equine activity with events such as horseshoes, rodeos, tractor pull, and monster truck shows.