Not so long ago, air conditioners were a luxury meant for the privileged. Nowadays, though, they have become part and parcel of our lives- present in our homes, offices and even public transport. However, it is very important to choose the right kind of air conditioner that will be good for you as well as the environment. Technology, with its new innovations every day, have made air conditioners much more efficient and feasible than they were a few years ago. So, whether you are buying a new unit or want to replace your older system, come to us at Comfort Master NC, where we will explain every step so that you can make a well-informed decision. We offer cost-effective solutions to home requirements as well as commercial spaces requiring multiple units. So, if you live in or anywhere near Goldsboro, Kinston NC, Rocky Mount, Washington NC, Wilson NC or Winterville NC, make sure to choose us for our exceptional services.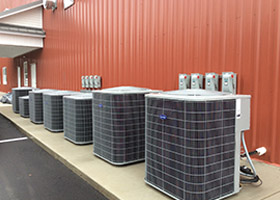 If you want to be a smart consumer, choose an air conditioner that gives smart features like the ones below:
The world today is engulfed with high mercury levels and increasing electricity rates. In this situation, you must be wise and do your part for the environment. Hence, choose an energy efficient brand or model of AC. If the unit consumes less energy, then it will consequently save you money and help to keep a healthier environment in your surroundings.
Air Conditioners should not just make the air inside your home cooler but also purify the air. Hence, pick an AC which has a good filter that improves the air quality that is being circulated. Fortunately, this filter does dual jobs of cleaning the air as well as enhancing the cooling function and energy efficiency by securing the evaporator coil from choking due to excessive dust.
Hence, if you want to select such an AC for your home or corporate building, contact us now!