Are you thinking of buying an air-conditioner at home? Well, the heat has become truly unbearable these days owing to global warming which has plagued every part of the world. And the price will also be lower during winters. But it is not enough to only look for the right seller of the air-conditioning systems. You must also arrange for a few other things that you will need in order to ensure a great air conditioner experience. We, at Comfort Master, can be your one-stop shop for all kinds of services regarding your AC. We are a highly experienced and reputed company which can cater to both residential as well as commercial clients. We are a locally owned and operated company which is known for their expert solutions and a customer-oriented approach. We have some of the most efficient and knowledgeable technicians Right from installation to repairs, we can help you with everything. So, if you are from areas like Edenton, Goldsboro, Kinston NC, Rocky Mount, Wilson NC, or Winterville NC, you can resort to us.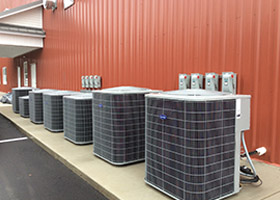 Here, we have put together a few of the common services that you require if you have an AC at home. Take a look.
When you purchase the AC, it will not start operating on its own. You need to make sure that the air-conditioning system has been installed in the right manner. That is why you must also ensure that you have an AC installing service at your disposal.
After all, an air-conditioner is also a machine. So, you need to be prepared that it might break down after a long period of usage for a number of years. In such a case, you will require professionals to take care of the matter and fix the issue as soon as possible.
Apart from this, you should look for a company for the general HVAC maintenance. So, if you think we can be the right choice for you, get in touch with us now.